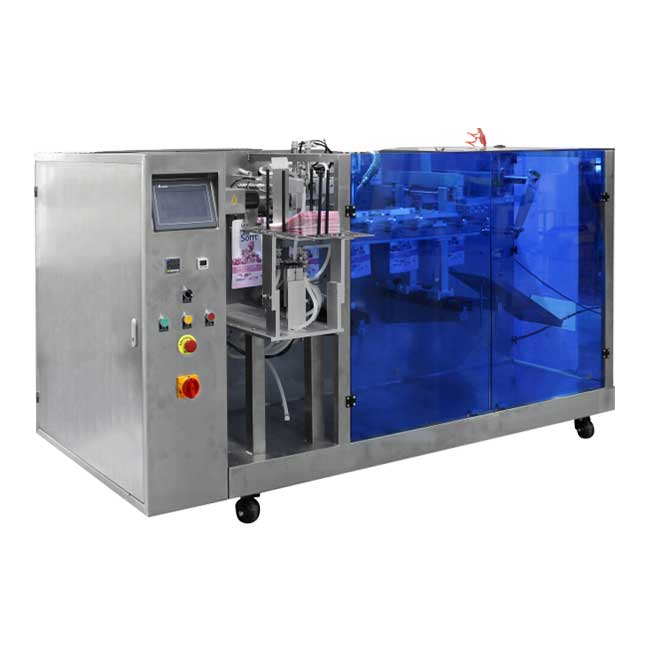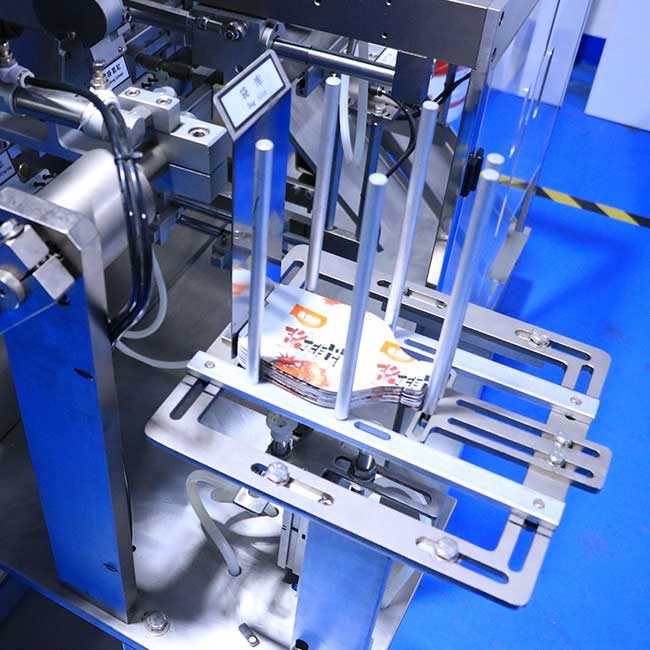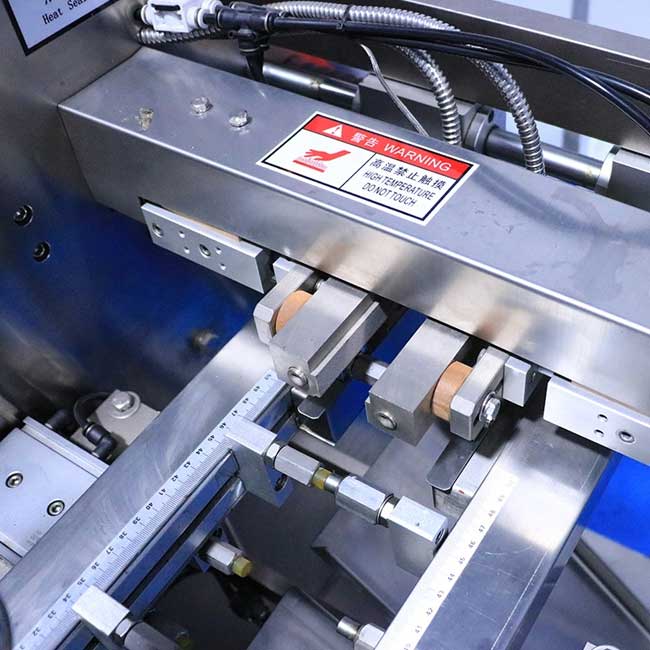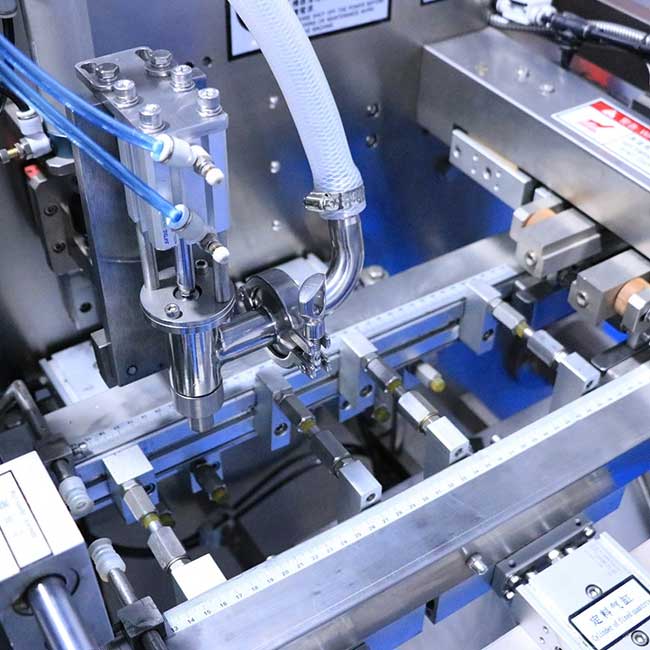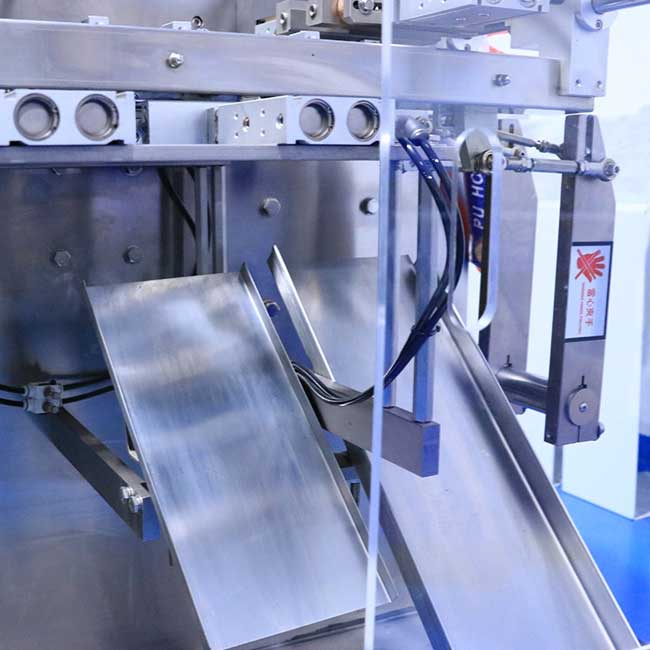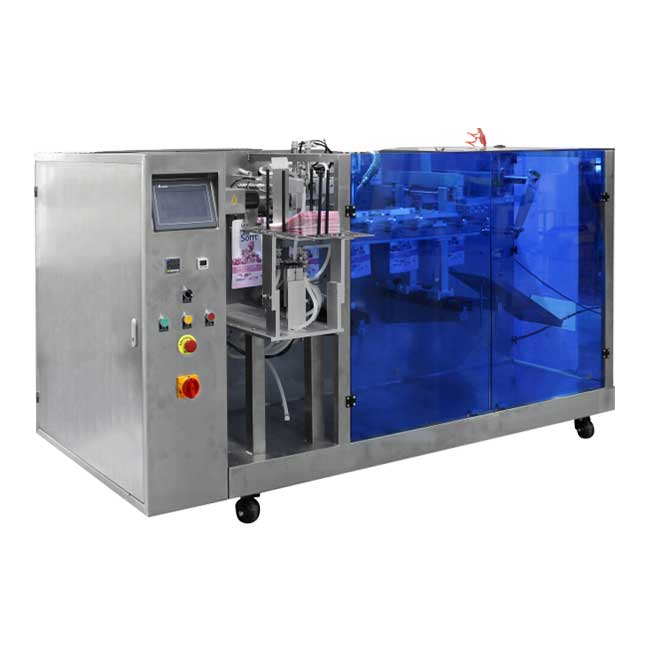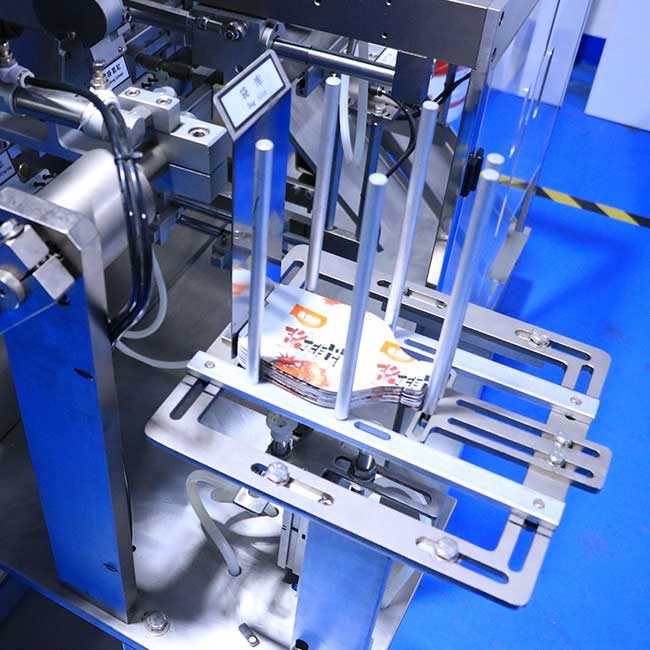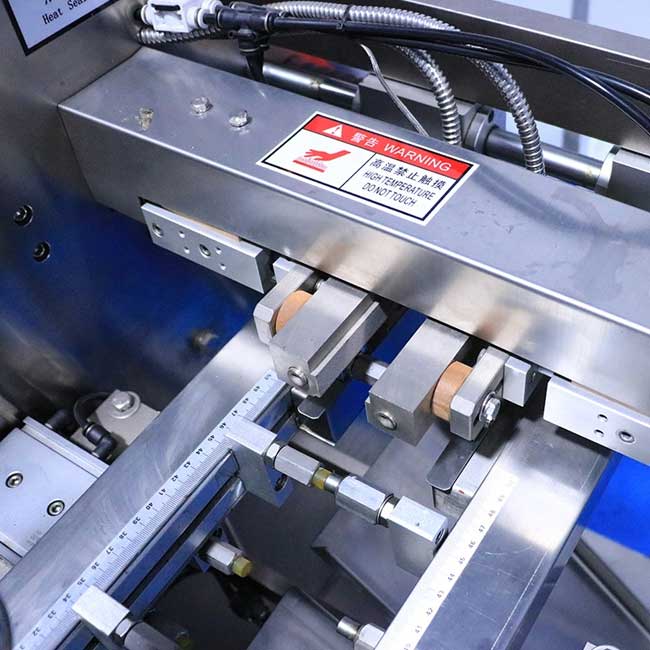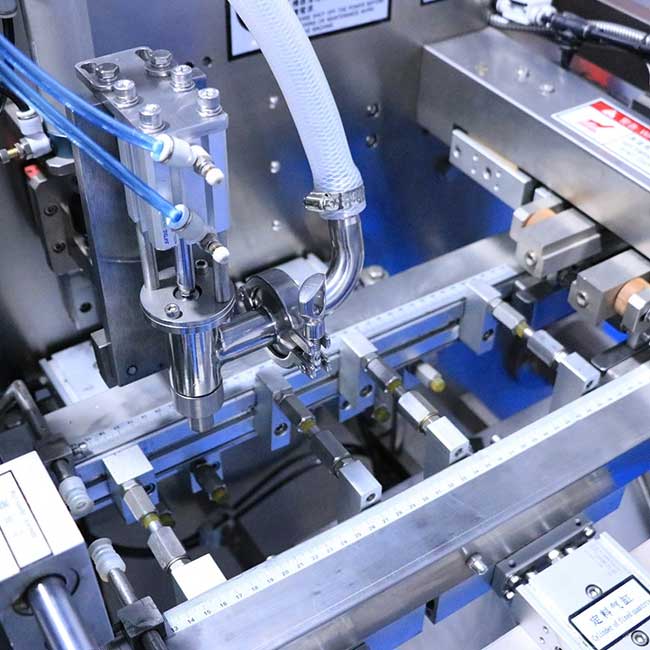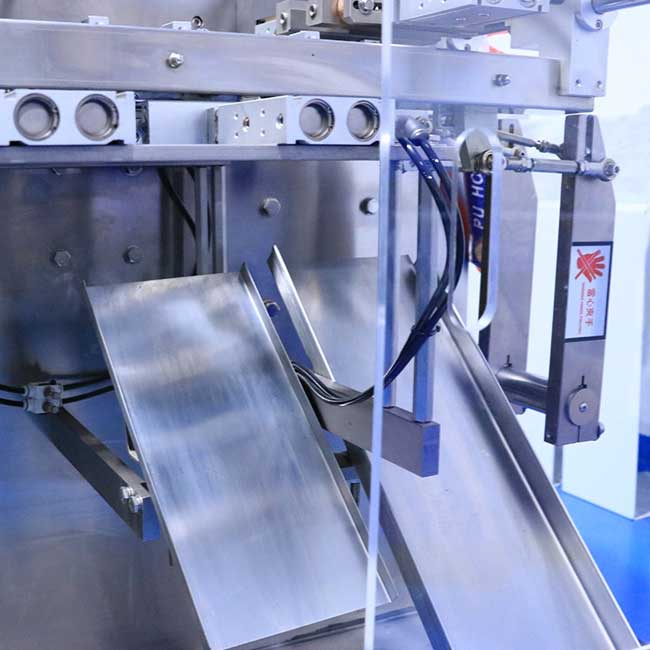 Powder & Liquid Horizontal Bag Packaging Machine
The powder & liquid horizontal preformed bag packaging machine, with a special design, can be applied to different types of preformed bags, standing bags, zipper bags, three-side sealed and four-side sealed bags. The horizontal preformed bag packaging replaces the manual packaging and reduces the labor cost.
The bag slot is convenient and simple for bag placing, and it is equipped with an active bag-pressing device.
Equipped with an imported pressure sensor to achieve the effect of feeding and sealing, saving packaging bags.
Strong sealing, smooth and beautiful.
Fully automatic process of feeding, metering, filling sealing, printing date, conveying, and discharging.
Multi-language control system.
Parameter
SK-G170S
| | |
| --- | --- |
| Model | SK-G170S |
| Types of Packaging Bags | Stand bag, zipper bag, flat bag ( 3 side seal, 4 side seal, bag with punched tote handle, pillow bag etc.) |
| Bag Size | W8: 5-170mm L: 100-300mm |
| Packing Capacity | |
| Packing Speed | 20-50 bags / min |
| Air Consumption | 0.7m³ / min |
| Power Specifications | 220V / 50Hz or 60Hz single-phase 1kW |
| Total Weight | 800kg |
| Options | Zipper opening device, bag holding device, air filling device, finished conveyor, filling equipment |
SK-G210S
| | |
| --- | --- |
| Model | SK-G210S |
| Types of Packaging Bags | Stand bag, zipper bag, flat bag ( 3 side seal, 4 side seal, bag with punched tote handle, pillow bag etc.) |
| Bag Size | W: 100-210mm L: 150-380mm |
| Packing Capacity | 50-1000ml |
| Packing Speed | 20-40 bags / min |
| Air Consumption | 0.7m³ / min |
| Power Specifications | 220V / 50Hz or 60Hz single-phase 1kW |
| Total Weight | 950kg |
| Options | Zipper opening device, bag holding device, air filling device, finished conveyor, filling equipment |
SK-G260S
| | |
| --- | --- |
| Model | SK-G260S |
| Types of Packaging Bags | Stand bag, zipper bag, flat bag ( 3 side seal, 4 side seal, bag with punched tote handle, pillow bag etc.) |
| Bag Size | W: 140-260mm L: 180-400mm |
| Packing Capacity | 200-2000ml |
| Packing Speed | 20-30 bags / min |
| Air Consumption | 0.7m³ / min |
| Power Specifications | 220V / 50Hz or 60Hz single-phase 1kW |
| Total Weight | 1100kg |
| Options | Zipper opening device, bag holding device, air filling device, finished conveyor, filling equipment |
Application
SK-G170S
| | | | | | |
| --- | --- | --- | --- | --- | --- |
| | Packaging Format Range | Adjustment Method | Packing Way | Packing Speed Range | Special Process |
| Puffed | 10-30g | Display control | Multi-head Combination Scale | 20-50 bags / min | None |
| Dried Fruits / Nuts | 10-500g | Display control | Multi-head Combination Scale | 20-50 bags / min | None |
| Fertilizers | 10-500g | Display control | Linear scale | 20-50 bags / min | None |
| Feed | 10-500g | Display control | Linear scale | 20-50 bags / min | None |
| Frozen | 10-500g | Display control | Multi-head Combination Scale | 20-50 bags / min | Multi-head scale with dimpled material |
| Grains | 10-500g | Display control | Multi-head Combination Scale | 20-50 bags / min | None |
SK-G210S
| | | | | | |
| --- | --- | --- | --- | --- | --- |
| | Packaging Format Range | Adjustment Method | Packing Way | Packing Speed Range | Special Process |
| Puffed | 10-50g | Display control | Hot sealiing | 20-40 bags / min | None |
| Dried Fruits / Nuts | 10-1000g | Display control | Hot sealiing | 20-40 bags / min | None |
| Fertilizers | 10-1000g | Display control | Hot sealiing | 20-40 bags / min | None |
| Feed | 10-1000g | Display control | Hot sealiing | 20-40 bags / min | None |
| Frozen | 10-1000g | Display control | Hot sealiing | 20-40 bags / min | Multi-head scale with dimpled material |
| Grains | 10-1000g | Display control | Hot sealiing | 20-40 bags / min | None |
SK-G260S
| | | | | | |
| --- | --- | --- | --- | --- | --- |
| | Packaging Format Range | Adjustment Method | Packing Way | Packing Speed Range | Special Process |
| Puffed | 10-70g | Display control | Hot sealiing | 20-30 bags / min | None |
| Dried Fruits / Nuts | 10-1500g | Display control | Hot sealiing | 20-30 bags / min | None |
| Fertilizers | 10-1500g | Display control | Hot sealiing | 20-30 bags / min | None |
| Feed | 10-1500g | Display control | Hot sealiing | 20-30 bags / min | None |
| Frozen | 10-1500g | Display control | Hot sealiing | 20-30 bags / min | Multi-head scale with dimpled material |
| Grains | 10-1500g | Display control | Hot sealiing | 20-30 bags / min | None |